BHS moving to blue alert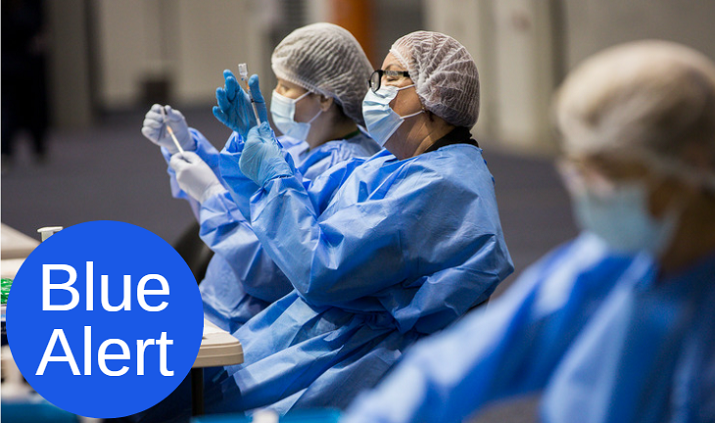 As announced by the WA Health Minister, due to the continuing decline in COVID-19 cases in the community, Bentley Health Service is moving from a red to a blue alert status from Monday, 15 August 2022.
What does this mean?
For patients:
Any patient attending an BHS for a clinic appointment or booked admission must now undergo a risk assessment on arrival which may include Rapid Antigen Testing (RAT).
For planned admissions, please aim to arrive 30 minutes before your appointment.
We encourage you to perform a RAT test from home on the day of your appointment and bring photographic evidence on your phone.
If it is difficult for you to RAT at home we can assist you on arrival.
The results of this risk assessment will assist staff in determining whether your appointment or procedure will go ahead or whether it is rebooked for another date.
Please note vaccination restrictions do not apply to patients accessing the hospital for treatment. Healthcare is available to all patients – regardless of vaccination status.
Please call the hospital on the contact number provided to you in your appointment letter if any of the following apply:

you have had COVID-19 in the last 4 weeks
you have tested positive for COVID-19 between your booking date and appointment date
are currently unwell with any of the following symptoms – fever, dry cough, shortness of breath, fatigue, loss of taste and or smell, diarrhoea, headache, sore throat, muscle aches, runny nose, chills, vomiting
you have been told to isolate by WA Health.
For visitors:
Patients may have two visitors at a time during designated visiting hours.
While a patient may have more than two visitors per day, only two are permitted in the hospital at any given time.
Permitted approved visiting hours are 10am to 7pm, seven days a week
Special visiting circumstances:
For visitors who are deemed essential, visits can be outside of the standard visiting hours or exceed the two visitor cap. An essential visitor includes the following:
nominated labour support person
nominated parent/guardian of an admitted child (including a neonate/start of life)
nominated guardian/carer for a patient living with a disability
support person for someone who is critically ill
one end-of-life support person
a maximum of one accompanying visitor into the Emergency Department
up to two visitors per patient in an emergency circumstance (not all emergency department presentations).
Essential visitors can remain with the patient outside of standard visiting hours.
Visitor Screening Process:
Anybody wishing to enter BHS as a visitor must now:
use the QR code on display and complete the screening survey and register your visit when presenting to the check-in desk
if you are unable to use the QR survey present to the check in desk and staff will support the screening process
bring photographic evidence of a RAT test done at home on the day of your visit if visiting a vulnerable patient or a high-risk area (including oncology, haematology and renal dialysis, maternity, emergency departments and mental health)
if it is difficult for you to RAT at home we can assist you on arrival
have proof of double vaccination or proof of exemptions, as you may need to show upon request by a relevant officer or member of staff
wear a surgical face mask at all times while on hospital premises. If you are wearing a cloth mask, a surgical mask will be provided
adhere to public health measures, including physical distancing of 1.5 metres and hand hygiene
if you meet these requirements, you will be issued with an armband which you must wear for the duration of your visit.
For all patients and visitors to BHS it is important that you:
allow extra time for your visit or appointment and plan well in advance
make sure you understand the hospital entry requirements
be prepared to show your appointment letter on arrival
follow the signage displayed on site and the direction of staff for entry and exit points
note that current arrangements are subject to change at short-notice based on updates to public health guidelines.
We acknowledge the inconvenience of these new measures but ask that you remain patient and courteous to our staff as they strive to keep you and your loved ones safe.
Abuse of our staff will not be tolerated.