Meet Wayne Epton - Head of Department Dietetics and Nutrition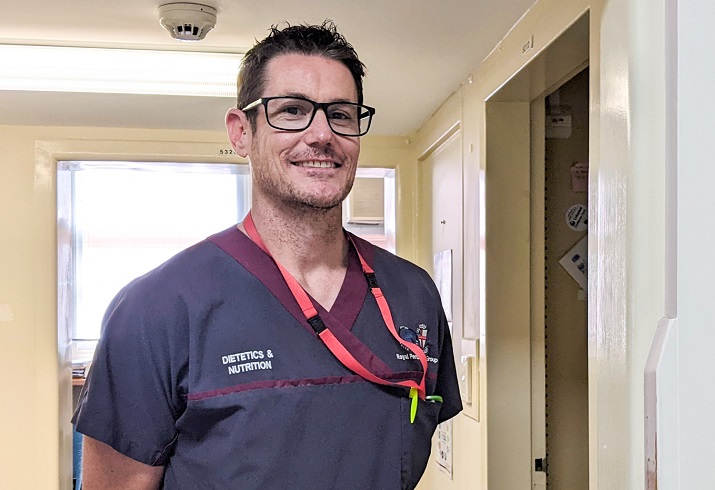 Royal Perth Bentley Group (RPBG) Head of Department Dietetics and Nutrition, Wayne Epton says that when he visits a patient, he focuses on recovery – not on 'good' and 'bad' foods.
"Most people worry when they are referred to a dietitian that we will put a spotlight on their weight or how much they are eating," he said.
"Our main aim is to ensure patients are getting enough of the right nutrition to recover, and to support them to get well."
Wayne revealed he became a dietitian because of an experience he had at age 22.
"I am a Type 1 diabetic," Wayne said.
"At one appointment the GP was particularly cantankerous and asked if I ate chocolate. I replied, 'Of course I do. I like it'.
"His response to that was, 'Next time you get a craving, just say no!'.
"That's not very helpful advice, and I can imagine people walking out of his office feeling like a failure because they can't say no to a craving, so that experience really drove me to become a dietitian and do things differently."
In daily operations, the Dietetics and Nutrition Department work closely with Catering to ensure the right food is on the menu for patients on a therapeutic diet, which takes considerable coordination.
"When a patient is referred to us, we visit the patient to assess them and focus on what is causing their nutritional issues," Wayne said.
"Patients who aren't eating correctly or losing weight can have poorer outcomes and a longer stay in hospital.
"That's why it is important to get to the cause of the nutrition issues, by assessing the patient's weight history, what they are – or aren't – able to eat, what medications they are on and how all of these things affect food absorption."
Keep up the great work Wayne!